As the name suggests, this is described by the Italian manufacturer as a unisex helmet suitable for both road bike and mountain bike use, and has some features that would appeal to commuters too, but is it a case of 'Jack of all trades, Master of none' ?
I have owned this helmet for 6 months, and wear it on my daily commute and on my longer weekend rides.
Features:
Light weight, it is the lightest helmet I have owned so far, weighing only 262 grams for the universal size (52-59cm). (MET state that the helmet weighs 270g)
Good ventilation, when riding on frosty/cold mornings I have to wear a warm cap underneath, I have never had to do this with any of my previous helmets.
Longevity, the box states that it comes with a three year warranty, and unusually its lifespan is between 8-10 years!
Price: Models vary from £30 to £60, click here to buy.
The advice given by most manufacturers is to replace a helmet after 2-3 years of use, depending on its exposure to UV and the damage that comes from handling. But MET have an initiative called Low Impact On Nature (L.I.O.N) that not only prolongs the life of the product but also reduces its 'carbon footprint' and waste during production. Surprisingly the helmet does not retail at a higher price compared with other shorter-life lids of a similar spec, so you save money too! (Also, last years models, as this is, are currently discounted in many outlets, for sale for only £29.99 instead of MRP £39.99, making it an even better deal).
MET offer a helmet crash replacement policy, which means that if your helmet is seriously damaged (due to a crash or serious fall) within three years of the purchase date they can offer an equivalent helmet at a discounted rate, providing you can supply proof of purchase, and the broken helmet.
Minimal exposed polystyrene, the outer shell which is moulded and bonded to the inner during manufacture (as most do nowadays, except for the very cheapest ones) covers the back of the helmet too. This feature adds to the look and feel of quality and must help to protect the inner from knocks and UV light.
From the picture above you will also see the integrated rear LED light, this contains four red LEDs and is operated by pressing the whole assembly, it has a flashing and constant mode.
This is also the ratchet tensioner which adjusts the frame that sits around the head:
From this internal view you can see the washable pads and see the insect net that is moulded into the helmets front vents, you will also notice that the whole helmet is an oval shape, so may not be completely comfortable with someone with a more rounded head shape, for me though it fits perfectly.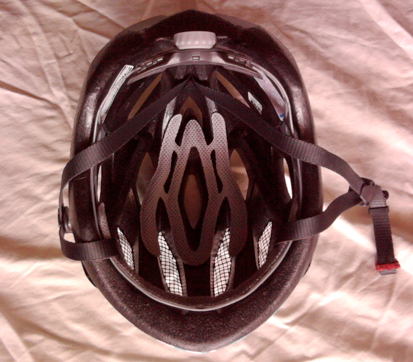 The straps and quick release clip are easily adjustable; in fact I had my fit set up within seconds, as I hardly had to adjust anything straight from the box. The straps don't rely on a thin rubber band to hold the excess in place, which can easily snap and leave a long piece of strap flapping in the breeze, the strap is a loop and is retained by a sturdy moulded piece of rectangular rubber, a much better design, also the strap itself is not so long as to have any free to stick out, it is also finished by a plastic end that is easy to pull even when your fingers are cold or when wearing gloves.
In the past I have often had trouble in getting the straps behind the ears to sit close to my head, but with this helmet these are tensioned properly, matching the front ones, so making it a secure fit.
Styling: This is of course a personal opinion, but the overall style is more generic than other helmet brands on the market, nothing about it stands out as being uniquely MET, unlike some others who seem to add peculiar shapes and designs in order to stand out, I like the look of the pointed rear protrusions as they look very strong and therefore more protective than bare polystyrene. I chose this colour combination because the turquoise is very reminiscent of the famous 'Celeste' used by Bianchi, as I have one of their bikes, thinking that the Italian made helmet might be purposely designed to match the Italian marquee. (All MET helmets are designed, developed and manufactured in Italy, at Talamona, in the heart of the Italian Alps).
My only (minor) criticism is that the switch on the light often needs pressing several times to either switch it on or off, especially when the temperature is low, I have noticed that in this years model it looks as if the light has been moulded in a red plastic rather than my clear one, so this issue may have been resolved already.