We got our hands on some digital pre release copies of "Ride" a new collection of short stories (not to be confused with British publication "Ride Journal"). Below are our collective thoughts on the Kindle and iPad versions.
Darryl:
I have to say that I was pretty stoked when I was asked to review the book Ride: Short Fiction about Bicycles. As a crazed bike fanatic, and a guy who enjoys short stories as opposed to a full out novel… this book sounded like something that would suit me just fine, and I was very interested in reading it.
As you can likely make out from the title, this book is composed of a bunch of short fiction stories about riding a bike. There are nine stories to be exact. Each of the stories are as different from one another as the people who wrote them, but there is a nice flow that transcends through the entire book making it a seamless journey from start to finish. I think that flow comes from the fact that each of the contributors to the book are crazed bike fanatics themselves, and their love for the bike comes shining through in each captivating story.
It's hard to cut out one story and praise it as being the best because each of them have their special ingredients making them enjoyable and unique in their own little way. With that said, I would like to mention that one story in particular stayed with me after finishing the book. I've seen a few other reviews of this book, and I know I'm not alone in saying that "Red Dot" by Barbara Jay Wilson lays out a story that is sure to put a smile on your face. I'm only guessing, but I'm pretty sure that Barbara Jay Wilson is a person who spends a lot of time out there on her bike connecting with the beauty and nature that surrounds her.
Adding to these wonderful nine stories are some incredible illustrations by Taliah Lempert… so if you're more into visuals than you are reading, this book has got you covered there as well. On top of it all, the asking price is pretty decent as well. What are you waiting for? Grab a copy and increase your bicycle fanaticism.
Content:4/5
Design: 4/5
Price: 5/5
App Usability: 4/5
As Described: 4.5/5
Cristi:
I have never reviewed a book before. But I certainly have read a great number of them. I know what I like and don't like in a good read. I love everything about cycling, though admit I will never be "good" at it. So when the editor at Cycling Short. asked me to read a pre-publication e-book entitled "RIDE" I jumped at the chance.
The book came to me via a tidy e.pub formate, but I suddenly found myself swamped with prior commitments, so I asked my husband to give it a read. Now he is an avid cyclist! And having ridden lots: Barcelona to San Sebastian, Geneva to the Stelvio, and many Classic sportives in-between I figured it would be great to get his take too.
Not half an hour into his read, he calls out to me. Have you read this first short story, "it is demented. It's great. it's real. But it's totally weird. You should read it, and see what you think" Well, no I hadn't read it yet, and I can't say this was a common occurrence, as we generally don't read the same books, but being a short story I dropped my work and picked up the e-reader.
And I read. It was an interesting story, a guy who wants to ride in great places around town, but needs to get behind the gated community fence to do it. He sails down the hills, he climbs with the beautiful metaphor only a well practiced cycinst and writer could combine. But from there it was exactly as Randy said it was. It was weird it was dark, it could so easily happen. Just like Steven King's Misery, you know it can't end well, but you keep reading. And remembering………
There are 9 short stories in the book. Some are about cycling and others in which the bike is the main character. Most are gritty, a couple are a bit cliché, but Bob's Bike Shop a story mid-stream in the book is a very touching story that brought to mind the feel and devotion to cycling and bikes that was so well represented in the movie "Breaking Away".
Overall, it was a good read. More about bikes than cycling in a few stories, more about people with bikes than the epic cycle or grand tour. I didn't know what to expect, but I'd have to say I enjoyed reading most of the stories, but the flow of stories was a bit uneven. A couple I loved, a couple I just didn't get. And one I think will definitely stick with me for a while.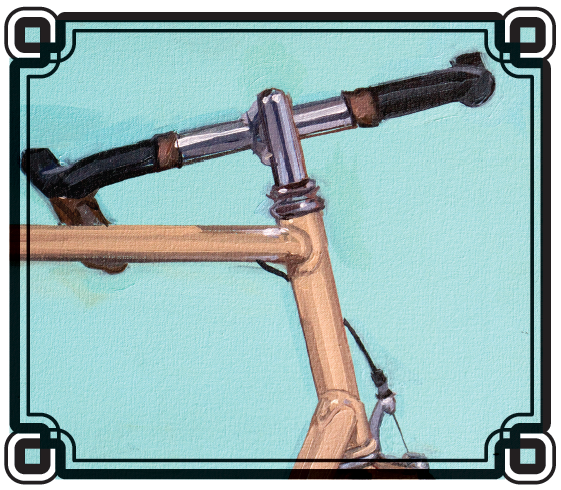 Content:3.5/5
Design: 5/5
Price: 4/5
App Usability: 5/5
As Described: 3/5
Anna:
I love the introduction to the book by author and editor Keith Snyder…
"Love or money.
Those are the two good reasons to bring a book into existence.
Either you think it's going to pay the rent, or you want to read it but nobody's written it yet.
This book will not pay the rent.
Ride Safe.
Not while reading."
It pretty much sums up the experience, it's fresh and different from other cycling books. I have to say I'm new to "cycling fiction" but it approaches the subject from many different angles and writing styles, cycling being the common thread in the stories, or to be more precise bicycles. It's a pick and mix which makes it great to dip into for a quick escapist bike fix, lovely illustrations throughout by Taliah Lempert. I would agree with Cristi that the flow is a bit bumpy but probably unavoidable. I found a couple of the stories a little odd and not my cup of tea, but I don't think you can expect to like everything you read in a book that has a collection of authors and styles. The book gives you a short introduction about each of the authors and links to their own websites before their story, each entry is illustrated with one of Taliah's paintings. The iPad app (which is the pre release version I read) is very easy to navigate allowing you to add notes, skip through chapters (as you'd expect). The layout suits an iBook app it looks fresh and it's cleanly designed, often publishers overcomplicate the layout because they know they can make a book do anything in digital form. The publisher of this book has been more restrained and it makes it pleasant to flick through. For those who aren't big readers of fiction, give this a go, you only need a few minutes to read some of the shorter stories and it's peppered with illustrations to keep your eyes entertained too. The writing style is very American as are some of the storylines but it doesn't exclude international readers. I enjoyed the variety of storytelling styles.
….I do hope it in some part helps to pay the rent for the authors, a labour of love that keeps a roof over your head is a rare but wonderful thing!
This book brings the passion of writing and cycling together in a beautifully illustrated publication. Worth a read and a great price.
Content:3.5/5
Design: 4/5
Price: 5/5
App Usability: 5/5
As Described: 3/5
Ride – Short Fiction About Bicycles
Authors: Keith Snyder, Paul Guyot, Simon Woods, Stephen D. Rogers, Teresa Peipins, Christopher Ryan, Kent Peterson, Barbara Jaye Wilson, David A.V. Elver
Illustration by: Taliah Lempert
Publisher: Typeflow
Purchase now from:

Barnes & Noble Nook edition: $3.99
From iTunes for iBook: £1.99 / $3.99
What the Author/Editor says about the book:
In this collection of short stories about bicycles, a grocery store worker finds more than he bargained for when he wangles his way into a gated community with a perfect hill for climbing…an ancient Constantinoplean invents a two-wheeled contraption to impress a girl…a bicycle reflects on its life while chained outside in New York City…an eerie rider exacts gruesome revenge on automobile drivers…
These and more in eight stories of gears, pedals, and the need to RIDE.
Submissions are now open for the next volume of Ride. If you fancy testing your writing skills and submitting a short story yourself please visit the Ride Bike Fiction website for contact details…. Who knows, we could be reviewing your work very soon!
For more information please visit the Ride Bike Fiction Website here.