Vicky Pendleton Book Competition
NOW CLOSED!
And the winners are…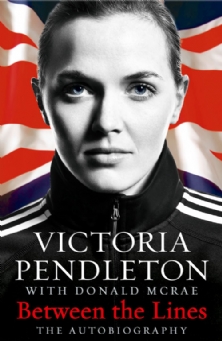 Here is your chance to win a copy of the excellent new autobiography from Victoria Pendleton "Between the Lines".
The Golden Girl of British cycling opens up, for the first time, in searingly honest detail about what drives her to compete in a sport she no longer loves. Written with Donald McRae, 2 time winner of the William Hill Sports Book Award, "Queen Vic" promises to be THE Olympic autobiography.
Victoria Pendleton MBE is not your typical female athlete.
Admired as much by the weekly glossies as she is the newspaper back pages, she transcends her sport.
In 2005 she became first British female to win Gold at the cycling World Championships in 40 years. She followed it up with gold medals at the Commonwealth Games in 2006 and another World Championship in 2007.Arriving in Beijing for the 2008 Olympic Games, Pendleton was on top of the world. She didn't disappoint.In an enthralling example of track cycling, Pendleton took Gold and joined the ranks of British Olympic heroes.And then it started to go wrong.
Feted by the press and the public alike, behind the scenes the cracks and strains started to show. Despite retaining her World Champion status in 2009, it was a close run thing and her shield of invincibility started to drop. Victoria was falling out of love with her sport.The sport that had made her was starting to tear her apart.
Between the Lines documents the considerable lows as well as the well-known highs and reveals why Victoria almost turned her back on cycling before rediscovering her Championship winning form in 2011, the day after suffering one of her most humiliating days on the track.
"Victoria Pendleton – Between the Lines: My Autobiography" is available in hardback by HarperCollins and as an eBook for RRP£20.00
The lovely folk at Harper Collins are generously offering Cycling Shorts readers worldwide the chance to win copies of "Between the Lines The Autobiography – Victoria Pendleton with Donald McRae".
To enter this great competition all you have to do is follow one or all of the instructions below.
Option 1:
Use the form below to enter, this will give you 2 entries into the competition.
Option 2:
If you tweet the following you will gain one entry into the competition:
"Win a copy of @V_Pendleton Autobiography "Between The Lines" @CyclingShortsUK click here to enter: http://bit.ly/O79HDk #strictly #Cycling"
[you must include "@CyclingShortsUK" to ensure you will be entered into the draw]
Option 3:
If you "Like" Cycling Shorts. on Facebook you will be entered once into the competition.
Terms & Conditions:
Competition open to entrants worldwide.
Competition closes on the 10th November 2012. Winners will be notified on or shortly after the 12th November 2012.
Winners will be published on the Cycling Shorts website, Facebook page and Twitter feed no email addresses will be published, just names or screen names. We will contact winners to obtain your delivery address and arrange dispatch.
Your details WILL be shared with the book publisher (Harper Collins) and you can unsubscribe from Cycling Shorts and Harper Collins at any time. Your details will not be shared or sold on to any 3rd party. Both companies manage responsible and secure mailing lists. If you wish to unsubscribe from the Cycling Shorts database you can do so on the top right of any page on our website.