Stephen Roche "Born to Ride" Competition
NOW CLOSED!
And the winners are…
Jonathan Smith (@Spofferoonie)
Lawrence Bywater
Tom Eastwood

To coincide with the release of the long awaited Stephen Roche book "Born to Ride" Cycling Shorts have been given a haul of signed pre release copies to give away. Our very own Cristi went to the book launch the other week on behalf of Cycling Shorts and got her hands on the book early to review it for us.
To find out more about "Born to Ride" click here to read Cristi's review of the book before it hits the shelves at the end of the week.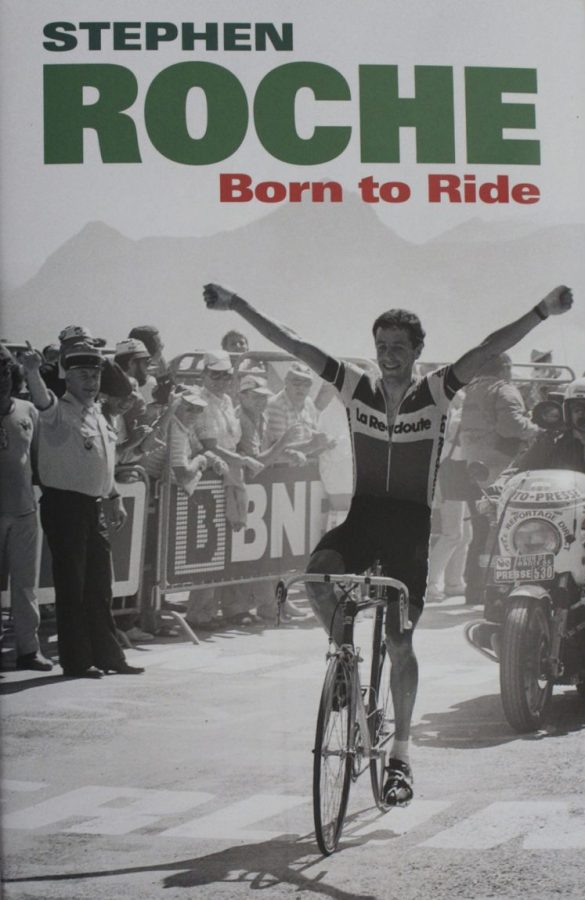 On 6th September 1987, Stephen Roche touched greatness. Victory at the World Cycling Championship in Austria completed a near-unprecedented 'triple-crown' that included triumphs in the same year at the Tour de France and the Giro d'Italia. In April, against all odds, he had fought his own team and an angry, partisan Italian crowd who had spat at him on his way to taking the Giro. In July a superhuman effort at La Plagne, saw him secure the yellow jersey just before he blacked out. Roche's victory in Austria confirmed his virtuosity.
Born to Ride, Stephen Roche's first full autobiography, uses his best year as the starting point to explore the rest of his life. He doesn't hold back as he examines the many ups and downs of his time on and off the bike, scrutinising victories, defeats, rivals, serious injury, doping allegations and agonising family breakdown.
At the heart of the book lies an enigma. For all his charm and rare, natural talent, beneath the surface lies an incredible tenacity and determination. Roche finally reveals himself as a smiling assassin; a master-strategist who lives to attack.
"Born to Ride" is released by Yellow Jersey Press/Random House Group on 7th June 2012 available in Hardback or eBook for £12.99
Click to buy: Born to Ride: The Autobiography of Stephen Roche
Competition
The lovely Stephen Roche and the folk at Yellow Jersey Press/Random House are generously offering Cycling Shorts readers worldwide the chance to win a signed copy of "Born to Ride".
To enter this great competition all you have to do is follow one or all of the instructions below.
Option 1:
Use the form below to enter, this will give you 2 entries into the competition.
Option 2:
If you tweet the following you will gain one entry into the competition:
"Competition! Win a signed copy of the new Stephen Roche Book "Born to Ride" @CyclingShortsUK click here to enter: http://bit.ly/L1PgJs"
[you must include "@CyclingShortsUK" to ensure you will be entered into the draw]
Option 3:
If you "Like" Cycling Shorts. on Facebook you will be entered once into the competition.
Terms & Conditions:
Competition open to entrants worldwide.
Competition closes on the 6th July 2012. Winners will be notified on the 8th July 2012.
Winners will be published on the Cycling Shorts website, Facebook page and Twitter feed no email addresses will be published, just names or screen names. We will contact winners to obtain your delivery address and arrange dispatch.
Your details WILL be shared with the book publisher (Yellow Jersey Press, Random House Group) and you can unsubscribe from Cycling Shorts and Yellow Jersey Press/Random House Group at any time. Your details will not be shared or sold on to any 3rd party. Both companies manage responsible and secure mailing lists. If you wish to unsubscribe from the Cycling Shorts database you can do so on the top right of any page on our website.