Lavazza Coffee Competition
NOW CLOSED! Winners….
Guy Calveley
C. Wright
Sam Baker
Calling all coffee loving cyclists!
Lavazza, Italy's favourite coffee and the official coffee of Wimbledon is giving three lucky Cycling Shorts. readers the opportunity to win the ultimate coffee lover's dream: a year's supply of authentically Italian coffee, a Moka Stove Pot and a limited edition 2012 Lavazza Calendar worth approximately £130 in total.
Lavazza's ground coffee is perfect for preparing at home using a moka pot or cafètiere and drinking either on its own as an espresso, or in a variety of longer coffee drinks or desserts.
The range includes QUALITÀ ROSSA, Lavazza's best seller; made from a unique blend of 70% Arabica, 30% Robusta beans to produce an aromatic, smooth, well rounded flavour. QUALITA ORO is a premium blend of 100% Arabica beans, ideal for coffee connoisseurs and perfect as a long coffee such as an Americano. TIERRA is Lavazza's 100% Rainforest Alliance coffee, blended from beans which are grown across selected plantations in Honduras, Columbia and Peru.
Whether you like an espresso to get you going on a snowy Sunday morning before a ride, or from a flask on a well-deserved al fresco coffee break, follow these top tips to ensure that Lavazza's premium coffee is served at its best every time: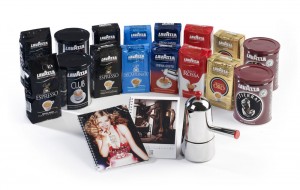 • Once opened, store your coffee in the fridge in an airtight opaque container
• Allow 7g coffee per cup
• Don't pour boiling water over your coffee as it will scorch it leaving a bitter taste. Instead allow boiling water to cool by a few degrees before you add it to your coffee
• Serve in a porcelain rather than a china mug to retain the heat for longer
The Lavazza ground coffee range is available from all supermarkets.
For more information on Lavazza and their products visit the website by clicking here.
To win this great prize, all you have to do is follow the instructions below.
We have 3 prizes to give away. To be in with a chance of winning one of these gorgeous coffee kits please use the form below to enter (using the form will give you 2 entries into the competition).
If you tweet the following you will gain one entry into the competition:
"Competition! Win a years supply of Lavazza Coffee & Moka Stove Pot @CyclingShortsUK click here for more details: http://bit.ly/yJBBiu"
[you must include "@CyclingShortsUK" to ensure you will be entered into the draw]
Terms & Conditions:
Prizes will be issued to UK delivery addresses only.
Prize Draw closes on the 14th March 2012. Winners will be notified on the 15th March 2012.
Winners will be published on the Cycling Shorts website, Facebook page and Twitter feed no email addresses will be published, just names or screen names. We will contact winners to obtain your delivery address and arrange dispatch.
Your details WILL be shared with Lavazza and you can unsubscribe from Cycling Shorts and Lavazza at any time. Your details will not be shared or sold on to any 3rd party. Both companies manage responsible and secure mailing lists. If you wish to unsubscribe from the Cycling Shorts database you can do so on the top right of any page on our website.